From: 20-04-2023 To: 22-04-2023
Place: Nof Zuqim
Time:
Thursday 15:00 till Saturday 16:00
Price:
2800 Nis early bird registration until March 15th . 3200 Nis full price starting March 16th.
For double unit - 300 Nis extra.
For a private unit- 800 Nis extra.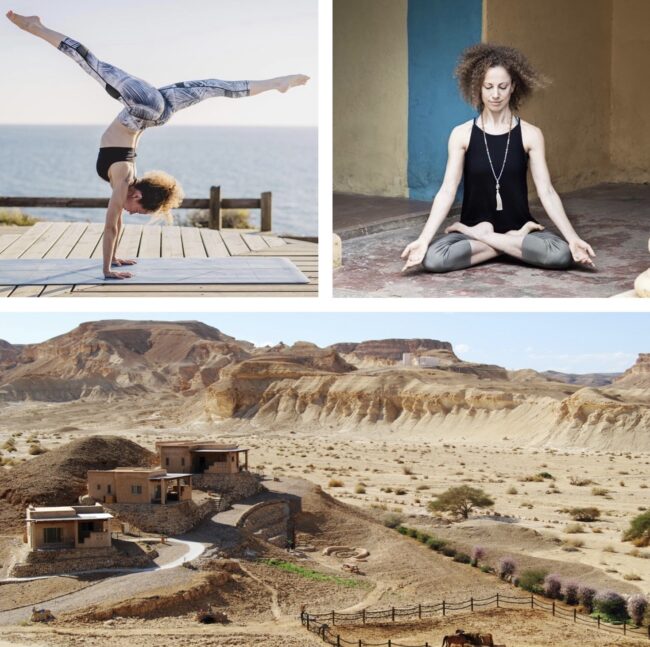 I invite you to join me for a yoga, movement and dance retreat in the desert 🌵
I really like to move and share my love for movement so I decided to start a tradition of retreats where we'll move through all the different worlds:Yoga, Movement (inspired by Ido Portal method) , Moving being method – my movement language, Ecstatic dance, Thai yoga therapy and more.
The program is suitable for everyone who loves to move: yogis, movers, dancers. There's no need for any dance background.
What's included:
Yoga practice
Moving being method – my movement language.
Handstands, Arm balances & transitions
Thai yoga therapy
Ecstatic dance with Itay spiritito
Delicious vegetarian meals (made by a chef especially for us)
Beautiful high standard accommodation based on 3-4 in a unit.
More info and registration by email
ericarintovich@gmail.com
I'll be happy to meet you☺️
About us:
Erica Rintovich

My yoga journey started with Zipi Winner- B.K.S Iyengar closest student & certified teacher.
I was 11 years old.
After two years of practicing with Zipi I understood that yoga is an inseparable part of my life and I decided to go deeper.
I started my Vedanta studies & yoga practice at the Sivananda yoga center in Tel Aviv.
I was 13 years old.
I grew up in this center and after few years did my first Yoga Teacher Training program with the Sivananda yoga Vedanta school.
Along with my yoga studies I developed a professional career as an international ballet dancer (Madrid, Zurich, TLV).
I graduated from Bat Dor dance school, Rina Schenfeld dance theatre and The Jerusalem Academy of music and dance high school.
After graduating I started working in productions with Bat Dor dance company and the Israel Opera.
At the age of 21 I moved to Spain to have my diploma studies in the professional conservatory for ballet in Madrid. I worked there as a freelance dancer with various choreographers that I love.
Together with that I did my Pilates Teacher Training & specialized in Pilates for rehabilitation.
I also went through my second Yoga Teacher Training with Dharma Mitra (New York)
After coming back to Israel I graduated from the Tel Aviv university majoring in East Asian studies (B.A. and M.A.), Philosophy of science (M.A.) and Musicology (B.A.).
In between the degrees I continued dancing in different projects, mainly in Zurich- the SIWIC project, where I worked with Philippe Saire among others.
I was in the foundation team that started "Pure Studios" in TLV. I managed the team of teachers in the place and taught there until 2012.
After doing my third Yoga Teacher Training in 2014, focusing in Ashtanga yoga I started my travels to KPJAYI- the central institute for Ashtanga yoga, founded by the late Sri Krishna Pattabhi Jois in Mysore, India.
As for today I study and practice in SYC- The Ashtanga yoga center established by R. Sharath Jois in Mysore India, where I stay few months every year.
Together with dance and yoga I also practice movement inspired by Ido portal method. As part of this practice I added many new fields of movement to my daily practice, such as soft acrobatics, handstands, calisthenics, floor work and more.
In 2022 I founded the "Movement project" – a collective of dancers and artists where I dance and create✌️
As for today I offer retreats, workshops and Teacher trainings around the world. My greatest passion is to incorporate all movement fields together. This path brought me to develop the moving being method. It is a system that combines inner development together with a wide physical training. This method is the base ground for my self practice and creation process.
I'll be very happy to meet🙂
What is the moving being method?
It is an approach to movement and being that I developed through the years. I see human and movement as inseparable. This way of seeing/thinking took me to a journey of self discovery, both on physical (movement) and metaphysical (mind/spirit- being) levels.
From a very young age I was introduced to yogic philosophy and received amazing tools for life- as human, dancer and creator. This inner practice is the foundation ground of the moving being method. Each session starts with a discussion based on these ideas. Through this discussion we build a fertile ground for creation and expression emerging from our deepest and most authentic self.
This process enables us understand why we are doing what we are doing. What is our motivation ?This question is always in the background.
On the physical level many movement fields had their influence on my path: Movement (inspired by Ido Portal method), floor work, soft acrobatics, asana (yoga), ballet, Bharatanatyam (traditional Indian dance), pilates, handstands and arm balances, contortion (flexibility training) and more.
Naturally, with the years, I took my favorite parts from each of those fields and created my own eclectic movement flow that combines all these different elements.
Why choose when you can enjoy it all? 😉
This method is the foundation for my self training, teaching and creative process.
I'll be happy to share it with you:)
Zeev Ross
At the age of 24 I was amazed to discover how poor my fitness was. I was so thin and skinny that even performing five pushups was very difficult for me.
So, I embarked on a journey of discovery and started my path of learning about the body and about physical and mental strengthening. The beginning was not easy, and I mainly practiced alone in front of YouTube.
After a while I experienced a change that made me want to dive deeper, so I came to Wingate and a year later became a coach. With time my curiosity only grew and the desire to learn and go even deeper drew me to Pilates studies/ During that time I also practiced Brazilian Jiu-Jitsu, running and functional exercise.
Following the rehabilitation study in Pilates, I decided to expand my knowledge of the human body, healing and rehabilitation and enrolled into Chinese medicine studies.
I studied for 4 years at 'Tmurot' College, and worked as an acupuncture assistant for 2 years.
Seven years ago, I met the Ido Portal method. I studied his method for two years while practicing daily and very quickly began to train. For the past five years I have been coaching and practicing Movement independently and at the Movement Studio.
The combination of different styles allows me to adapt the type of training according to the specific needs of the trainees – dancers and athletes, older and younger.
Today at the age of 41 I continue to combine different workout styles. Besides movement, I practice shadow yoga and classical boxing.
I am the father of two amazing children.
I coach, research and treat through body movement while combining Chinese medicine treatments.
I believe that movement is a way of life.
Itay (Spiritito)
D.J. And creator of movement and free dance spaces.
One of the Ecstatic dance pioneers in Israel. Itay will move us through a two hour session of Ecstatic dance that enables us express authentically all that lives inside us.
This space invites us to dance the entire spectrum of our emotions and feelings in a given moment.
It's a journey of freedom, love and pray.
A journey that invites us
Simply
Be.
Schedule:
Thursday
15:00 check in
16:00 Yoga practice
18:00 Transitions
20:00 Dinner
21:00 Dharma talk
Friday
8:30-10:15 Handstands & arm balances with Zeev Ross
10:30 Brunch
11:30-13:30 free time
13:30-15:30 Ecstatic dance with Itay spiritito
17:00-18:30 Thai yoga
20:00 Dinner
Saturday
8:30-10:15 Yoga practice
10:30 Brunch
11:30-13:00 free time
13:00-15:00 The moving being method (my movement language)
15:00 Closing circle